How Custom Web Development Can Revolutionise Business Presence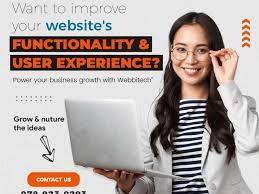 In a world where digital presence is increasingly important, businesses should invest in custom web development rather than opting for a pre-built template. This approach delivers far superior outcomes in terms of functionality, scalability and security.
A professional-looking website is vital to help you stand out from competitors, establish credibility and brand recognition, and generate traffic and conversions. It also requires a solid back-end to support its UI and functionality.
Uniqueness
Your website is a digital face for your brand, and it's important that it stands out from the crowd. A custom website will provide you with a unique look and feel that's sure to attract customers. It will also have clean code, which is essential for SEO and other functions. A unique site will allow you to create a better customer experience and will help your business grow.
While many businesses choose to use drag-and-drop web builders to set up their websites, these solutions can be limited in functionality and are not optimized for search engine optimization (SEO). This is why it's best to work with a professional custom web development company that can create a site that aligns with your business goals.
When choosing a custom web development company, it's important to consider their portfolio and past projects. Look for companies that have worked with a variety of clients, including local, national, and international organizations. It's also important to read reviews and testimonials to ensure that the company will meet your business needs. Finally, be sure to ask about the cost of their services. This will help you decide if the company is worth your investment.
Scalability
Custom web development offers the ability to scale your website and application according to your business needs. This is important because it will allow your site to grow without sacrificing user experience or performance. You can also customize your website to reflect your brand and improve SEO results. This can help you attract new customers and drive conversions.
A custom web design allows you to create a unique online presence that differentiates your company from competitors and leaves a lasting impression on visitors. It also ensures that your website is secure and responsive to your customers' needs. Custom web development is time-intensive, but it's a great investment in your business's future success.
Using a template-based solution can result in a convoluted customer journey that reduces your site's conversion rates. It's important to streamline the customer journey and equip your site with the features it requires most. This can help you increase your conversion rates and grow your business. Custom web development is the best way to accomplish this. It is crucial to choose a developer with the right expertise and skills. They can build your website with clean code that is easy to navigate and offers a personalized experience. This will help your customers stay longer on your site, increasing the likelihood of a sale. It also helps you build a stronger relationship with your customers.
Customisation
Custom web development is the process of creating a website that aligns with your business goals. This involves implementing a unique design, content, and functionality that differentiates your brand from competitors. It also involves integrating your branding across multiple platforms.
Choosing a custom-developed website can be time-consuming and cost-intensive. However, it can provide superior outcomes compared to a template-based solution. This is because a template lacks flexibility and can limit the functionality of your website. Moreover, it may not support your business objectives or align with your customer journey.
A custom-developed website can help you streamline your customer journey and reduce the number of steps that a visitor has to take to convert into a client. This will improve your conversion rates and drive business growth.
In addition, a custom-developed website will enable you to build your brand identity and establish a strong digital presence in the market. It will help you attract and retain high-quality customers. A customized website will ensure your brand's success and help you gain a competitive edge over the competition. Custom web solutions offer scalability, flexibility and a competitive advantage for businesses. If you are considering a customized website, contact a reliable web development company like Signity Solutions today.
Security
Security is a major concern for all businesses. When a business website has a security breach, it could have serious consequences for the company and its customers. However, there are ways to ensure that this doesn't happen, including using custom web development.
Custom web development provides a better user experience for your website's visitors. It also helps your website to rank higher in search engine results pages, resulting in increased visibility for your business. This is achieved through the use of high-quality content that reflects your brand and its value proposition. Custom website design allows you to include your unique name, logo, colours, fonts, and messaging. This creates an unmistakable brand identity on your site and gives you a competitive edge over other websites that use pre-made templates.
Another reason to opt for custom web development is that it provides more security than a template-based website. This is because a template is vulnerable to attacks from hackers, and can leave your business website open to malicious inputs from unauthorized sources. It also leaves your site vulnerable to Distributed Denial of Service (DDoS) attacks, which are sophisticated attacks that target the servers supporting eStores.
A custom-developed website uses secure back-end programming to protect your site from hacker attacks and to keep it up to date with the latest security patches. It's also scalable, meaning it can grow with your business and adjust to meet future challenges. For example, you can add more functionality to your site and address other issues that improve the user experience. This can significantly expand the lifespan of your site.