Is Online Shopping For Groceries Right For You?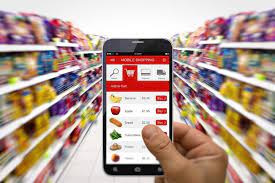 If you enjoy grocery shopping, you may be interested in the convenience of online grocery shopping. With the added bonus of convenience, you can buy more items at once. Online grocery shopping also means that you won't have to worry about crowds or long lines. In addition, you can get your groceries delivered directly to your door. If you're not a fan of traditional grocery stores, you can use third-party grocery services like Shipt or Instacart.
Grocery stores are recognizing the advantages of online grocery shopping. Some have even embraced the trend. AmazonFresh is a great example, as it allows you to choose the items you want and have them delivered right to your doorstep. Other major grocery retailers have also gotten into the act by offering their own online grocery delivery service. For those who have an Amazon Prime account, this is a great option. Wal-Mart and Target also have one-stop-shopping features. Meanwhile, big-name grocery retailers have also taken advantage of the convenience of online shopping to remain competitive.
Interestingly, younger generations are now the main group to shop online for groceries. In fact, a recent study revealed that 30 percent of Millennials already shop for groceries online. Meanwhile, only 22 percent of Baby Boomers and Gen Xers make use of online grocery delivery services. This trend indicates that a lot of younger consumers will soon be doing most of their shopping online. So, is online grocery delivery right for you? Millennials, who are most likely to adopt online grocery shopping, are eager to make their lives easier.
The growth of online grocery delivery services is expected to continue in the coming years. In addition to increasing consumer convenience, more online grocery services are adding new features. For example, most grocery delivery services now work within slots. Moreover, many of these companies partner with taxi fleets to deliver groceries to your doorstep. The benefits of online shopping for groceries are evident: customers will prefer the convenience and ease of living that the online marketplace offers. And in the next six to twelve months, online grocery services will continue to grow.
One such service is InstaCart. You can search by department or store, and you can even use coupons on individual items. This service is available through a variety of partner retailers, including CVS, Whole Foods, and BevMo. InstaCart also has a location in Singapore, making it convenient for busy moms. The convenience of online grocery shopping is unparalleled. You can save time and money, as well as reduce your carbon footprint.
You can also share the apps and retailers you love on social media. While grocery shopping online will save you time, it may not provide you with weekly BOGOs and coupons. If you're a coupon-averse person, online grocery shopping isn't the solution for you. But you can get digital deals and other discounts on healthy groceries. Don't forget to link your loyalty cards with your online accounts. This way, they know what you like to purchase.