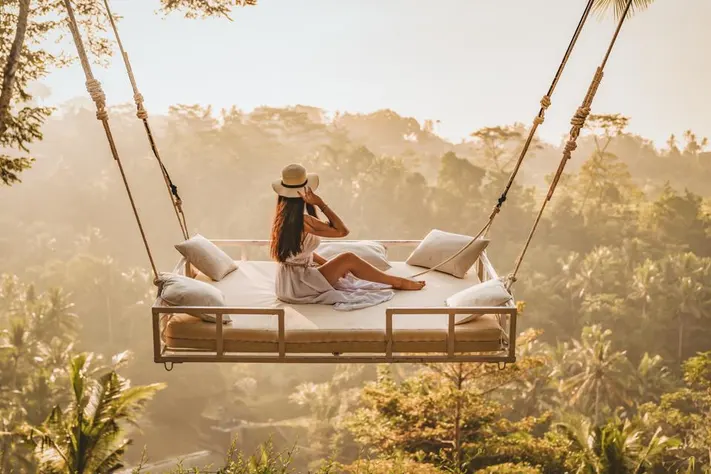 Thinking outside of the box when it comes to vacation ideas can be fun and rewarding. Whether you enjoy glamping in a yurt or tee pee or simply relaxing on a beach, there are plenty of unique places to visit that will provide an unforgettable experience. Check out 7 Unique Vacation Ideas:
Suitable for families, couples or solo travelers!
1. Visit Easter Island
Located more than 2,000 miles west of South America and in the middle of the Pacific Ocean, Easter Island has long intrigued travelers. Although not a typical tropical getaway, the island offers one-of-a-kind Polynesian culture and volcanic scenery that make it unique in its own way.
The most recognizable symbol of the island is the squatting moai statues that stand as guardians of a once-powerful civilization. Seeing the statues during sunrise is an unforgettable experience.
You can also explore the ancient ruins of Orongo, where the islanders hosted a yearly birdman competition that was the center of their religion. Other unique experiences include hiking volcanoes, exploring lava tubes and taking part in a traditional dance show. The island's crystalline waters are another draw and offer the perfect place for surfing and scuba diving.
2. Explore Southeast Asia
Southeast Asia is one of the best places in the world to be a backpacker. You can experience a wide range of unique adventures, from exploring dense jungles that are teeming with wildlife to hiking to epic waterfalls and beyond.
It's also a great place to learn to scuba dive, especially in countries like Thailand and Malaysia. The waters are pristine and the marine life is abundant, so it's well worth learning to dive here.
Another great thing about Southeast Asia is the cheapness of travel. You can save a lot of money by camping in untouched beaches and forests, and you'll be able to get some of the best street food in the world for just a few dollars at night markets. It's also possible to rent long-term motorbikes in many parts of the region, which will allow you to truly explore each country at your own pace.
3. Take a Cruise to Antarctica
There's no place in the world like Antarctica. This remote continent, twice the size of Australia, is home to countless mountains and glaciers that will take your breath away. Observe wildlife in its natural habitat while you sail past whale-abundant waters and penguin colonies.
Most cruises leave from Ushuaia, the world's southernmost city. These trips may also include other ports along South America's coastline.
Some operators specialize in polar cruises, such as Intrepid Travel and G Adventures. These companies typically offer more budget friendly options, and their expeditions usually have a strong educational component. Onboard, passengers learn from expert scientists who share their knowledge of the landscape and animals they encounter. Travelers are also encouraged to keep a respectful distance from animals (at least 15 feet is recommended). Doing so helps avoid introducing non-native species that can be harmful to native wildlife.
4. Go to the Maldives
The Maldives is a tropical paradise that's worth all the hype. This Indian Ocean archipelago has crystal-clear water, white sand beaches, and overhanging palm trees. It's also home to some of the world's most luxurious resorts.
You'll have a blast snorkeling or diving, and you'll probably see manta rays too. Just be sure to bring a waterproof camera (UK here | US here) to capture these magical underwater moments.
Keep in mind that peak season is from December through April, so expect to pay more during this time. But don't be discouraged, because there are ways to save on a trip to the Maldives. Just be sure to plan ahead and budget accordingly.
5. Spend a Week in Paris
Paris is a city of romance and beauty, and a week is a perfect amount of time to immerse yourself in the city's culture. Begin your trip by strolling along the city's romantic streets and dining at charming bistros.
If you're interested in art, tour the Louvre (get a skip-the-line entrance ticket to save some time). The world's most visited museum contains some of the world's most famous works, including the Mona Lisa.
Visit Montmartre on day two to explore a neighbourhood with a bohemian vibe and a rich artistic history. Then, see how the Impressionists mastered light and color at the Musee D'Orsay, a former train station that houses masterpieces from Manet, Monet, Renoir, and Van Gogh. To top off your trip, visit the Catacombs to see a creepy, underground system that houses the bones of thousands of dead Parisians.
6. Take a Trip to Hawaii
Whether you're looking to bathe in the sun at a luxurious resort or get lost on the rainforest-covered Road to Hana, Hawaii has something for every traveler. Its unique beaches, plumeria-scented air, and aloha spirit are seductive and timeless.
Flying is the quickest and most economical way to get to Hawaii. You can book a flight from nearly any major city to Honolulu in less than 12 hours.
Depending on the purpose of your trip, you may want to visit more than one island. Fortunately, there are flights between each of the main islands. This means that you can see the cosmopolitan capital of Honolulu, swim with technicolor fish at Molokini, or check out the Big Island's volcanic landscapes and Pearl Harbor. If you plan your trip wisely, you can save money on airfare and hotel rates by visiting during the off-season.
7. Take a Trip to Japan
With Japanese culture and music becoming increasingly popular worldwide, Japan has found its way onto many people's bucket lists. Whether you want to immerse yourself in the old-vibe of Tokyo's Asakusa district, try on kimonos and have a classical tea ceremony in Kyoto, stroll through bamboo groves or have fun at Universal Studios in Osaka, there is plenty to see and do.
For those looking to explore Japan's natural beauty, hiking has risen in popularity, as is camping. Winter is also a magical time to experience the country, with its traditional "gassho-zukuri" villages taking on an entirely new appearance under the snow. The country is also famous for its amusement parks, from the iconic Disneyland and DisneySea to Universal Studios. A trip to Japan is sure to be an unforgettable experience!