The Ultimate Guide to 3PL Software – Streamlining Logistics for Success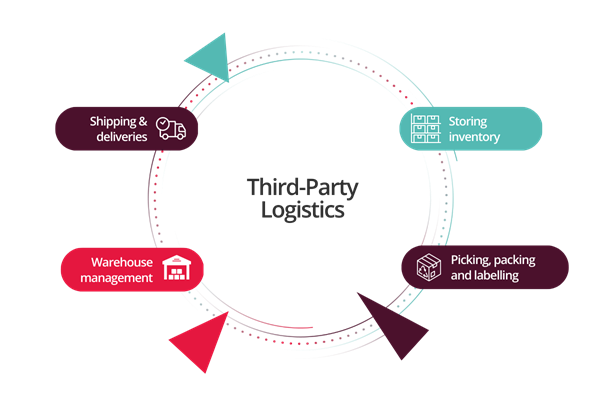 3PL software streamlines warehouse processes, making it more efficient. The best 3PL software providers also offer excellent customer support, which is essential to a business's success.
3PLs have warehouses strategically located across the globe, which cut shipping costs and speeds up delivery times for customers. They're also familiar with international logistics, including customs regulations and economic rules.
Inventory Management
3PL inventory management software is designed to automate warehouse processes and eliminate manual tasks that slow down the overall workflow. It offers features like barcode and RFID scanning, real-time visibility, customizable workflows, error checking, and audit trails to reduce risk and improve efficiency and accuracy.
In the fast-paced shipping industry, consumers expect quick, accurate deliveries. The right 3PL third-party logistics company can help you meet consumer demands while reducing operational costs and maximizing warehouse space.
3PLs often manage multiple warehouses strategically placed across the globe to optimize shipping rates and speed. They also have a network of relationships with last-mile delivery carriers, making it easier to negotiate the best rates and provide faster shipping times.
When you partner with a 3PL, they'll take care of every aspect of your shipping needs. From packing to labeling, they'll choose adequate packaging options for your items based on weight and dimensions. This includes boxes, poly bags, bubble mailers, and other materials. They'll even insert return shipping labels into packages, saving you time and money.
Whether it's improving warehouse layouts, optimizing transportation routes or implementing safety best practices, a strong working relationship with a 3PL allows companies to improve their supply chain operations and increase ROI. Larger 3PLs offer specialized expertise in the logistics industry and stay up-to-date on the latest technology and trends to provide their clients with innovative solutions.
Order Fulfillment
Using a 3PL for ecommerce fulfillment helps you avoid some of the biggest challenges you face when performing your own shipping. Without outsourcing, you're responsible for managing inventory levels and updating your website based on availability, picking and packing orders, and shipping them out to customers in a timely fashion.
With a third-party logistics provider, you get access to a warehouse where items are stored until they're ready for shipment, which can significantly reduce transit times when shipping to consumers who live close by. They're also experts at handling distribution across multiple locations, ensuring items are available in the right place at the right time by optimizing storage levels and anticipating consumer demand.
Another key service that many 3PL companies offer is order tracking, which ensures that shipments are on their way to their destination. With the increased emphasis on customer experience, it's important to have a seamless ordering and shipping process that provides transparency into shipments.
Some 3PLs offer additional services like return and exchange management, which is a huge benefit for eCommerce businesses that may experience high volume of returns or exchanges due to customer dissatisfaction or product problems. Other add-ons include kitting and assembly, which allows you to save on costs by having the provider assemble and package items for you. You'll also find some 3PLs will provide customized logistics solutions for their clients, allowing them to tailor their services specifically to each company's needs.
Warehouse Management
From inventory insight to consumer demand forecasting, 3PLs optimize warehouse processes and systems. This helps businesses eliminate redundant activities and boosts accuracy in distribution centers. Ultimately, it improves overall business operations by cutting costs and shortening shipping times.
Quick delivery is no longer a luxury for customers; it's an expectation. With that in mind, companies must keep their supply chain running smoothly to avoid disappointing customers and losing revenue. 3PLs are well equipped to handle this last-mile logistics process and offer services that can make the difference between a happy customer and an unhappy one.
Warehouse management software, such as Camelot 3PL Software, provides real-time visibility into warehouse inventory and order fulfillment operations. Its cloud-based or on-premise system streamlines warehouse systems and processes to improve efficiency. It can also reduce inventory levels by optimizing receiving, put-away, picking, and shipping workflows. Moreover, the warehouse management solution can improve order accuracy by providing clients with the ability to customize pick lists and rules. It can also automate kitting tools to streamline and expedite the creation of product kits or bundles for distribution or sale.
3PLs can help companies save on warehousing space by managing the storage of inventory at multiple locations across the country or even internationally. This allows them to ship orders quickly and at low cost to customers across the globe.
Client Management
A 3PL can design logistics solutions based on your specific needs and offer value-added services like kitting and assembly. They can also help you coordinate international freight movements and navigate complex customs procedures, trade restrictions and regulations. They can also provide real-time visibility and reporting into logistics operations.
Order fulfillment and shipping are essential components for any eCommerce business. Customers expect store shelves to be stocked and their online purchases delivered quickly and efficiently. To achieve this, businesses need efficient processes that can be executed and scaled rapidly.
When partnering with a 3PL, you must communicate regularly and ensure the provider is fully aware of your business's unique logistical requirements. A lack of communication and coordination can lead to unwanted shipping or warehousing problems that disrupt your supply chain.
Many 3PLs offer a variety of logistics management software systems that can streamline day-to-day warehouse, order processing and transportation operations. These systems may include TMS, which automates and optimizes transportation functions, and OMS, which helps streamline order management. Other software systems are designed to integrate with enterprise resource planning (ERP) systems and warehouse management platforms. These can provide a single view of inventory and customer orders, enhance warehouse efficiency and deliver actionable insights to decision-makers. Mintsoft is a good example of a user-friendly, cloud-based 3PL WMS system that offers integrated inventory and shipping automation.